How To  Ditch Knee Pain and Reach New Levels of Strength, Power and Flexibility
Apr 24, 2023
Knee pain can be a total pain in the ass (I've been working on my dad jokes, how am I doing so far?). It can flare up, cause countless problems in your training, and get in the way of various things in everyday life as well.
Unfortunately, most people have no idea where to start when it comes to their knee pain, so I've put together this basic guide to help you build a foundation of understanding and awareness around the knee and joint pain first.
In this guide, we'll break down topics that teach you how to identify the root cause of your knee pain, what steps you should be taking in order to fix the problem, provide pain relief, and some key things to consider along the way.
Before we dive in, I have two things I quickly wanted to say:
It's crucial that you, a barbell athlete, have a trusted Physical Therapist (PT) in your corner (if you need help finding a PT in your area that you can trust, follow this guide). If you do not currently have a PT that you visit, we have multiple at Primal Mobility that carry a proactive perspective - you can ask them questions in our free Facebook community!

We have a golden rule at Primal, that I'll be bringing up throughout this guide - Never Approach Pain. This is important to remember, but as always, there are nuances to the situation. Aggravating your pain can be counterproductive to your progress toward pain relief, so avoiding it until you are able to rebuild the foundation can be far more productive.
Alright, let's dive into the meat!
Identify The Cause Of Your Knee Pain To Accurately Address And Fix It
Remember when you were a kid, and you scraped your knee while playing outside, your mom would throw a bandaid on it, and you were off on your merry way like it never happened? Well, that's how most people are addressing their knee pain. They'll focus directly on the symptom and foam roll the area, rest ice compression, or find some kind of stretch that offers them short-term knee pain relief but may never truly fix the problem.
Although pain is wildly complex, and I don't want to pretend as though it's always an "easy fix", I find that it's important that we simplify it as much as possible so that we can take back our power in fixing the problem (so basically, it's magic). The way we like to do this is by looking up and down the chain from the symptom to learn more about the function of the surrounding joints that are potentially causing unwanted stress and compensations.
Here is a list of 4 common root causes of knee pain that will give you true power over the situation and can offer you a direct path to a long-term solution to the problem and help relieve pain:
Weak Ankle Mobility (particularly dorsiflexion)
The ankles are at the foundation of all major "closed chain" movements (think: running, jumping, squatting, deadlifts, walking, etc.) and play a vital role in how the rest of the chain functions and performs throughout these movements.
Having strong and efficient ankle movement is key, but our particular focus will often be on dorsiflexion. This is a function of the ankle that is commonly weak (like my ability to avoid the cereal aisle at the grocery store), yet crucial for squat mechanics.
Try this simple dorsiflexion test to see how you stack up!
Great = passing the stick
Good = at the stick
Poor = not reaching the stick
Weak Hip Rotation
Now that we have looked down the chain from the symptom, let's move our attention up to the hips (cue the Shakira "hips don't lie" jokes).
The hips are connected to the knees through the femur (something like a weird, anatomical long-distance relationship). Although the knees are considered a "hinge joint", the hips have the ability to rotate. When this rotation is restricted, the requirements will be forced up and down the chain (maybe you're starting to see a pattern here!), which can cause unwanted symptoms or worsen pain.
Considering that the knees don't have any rotating ability from the femur, this causes stressful movement requirements that the knees will struggle to compensate for.
Try this simple hip rotation test to see how you stack up! (OR = Internal Rotation , ER = External Rotation)
Great - IR = 30º+ , ER = 40º+
Good - IR = 20-30º, ER = 20-40º
Poor - IR/ER = -20º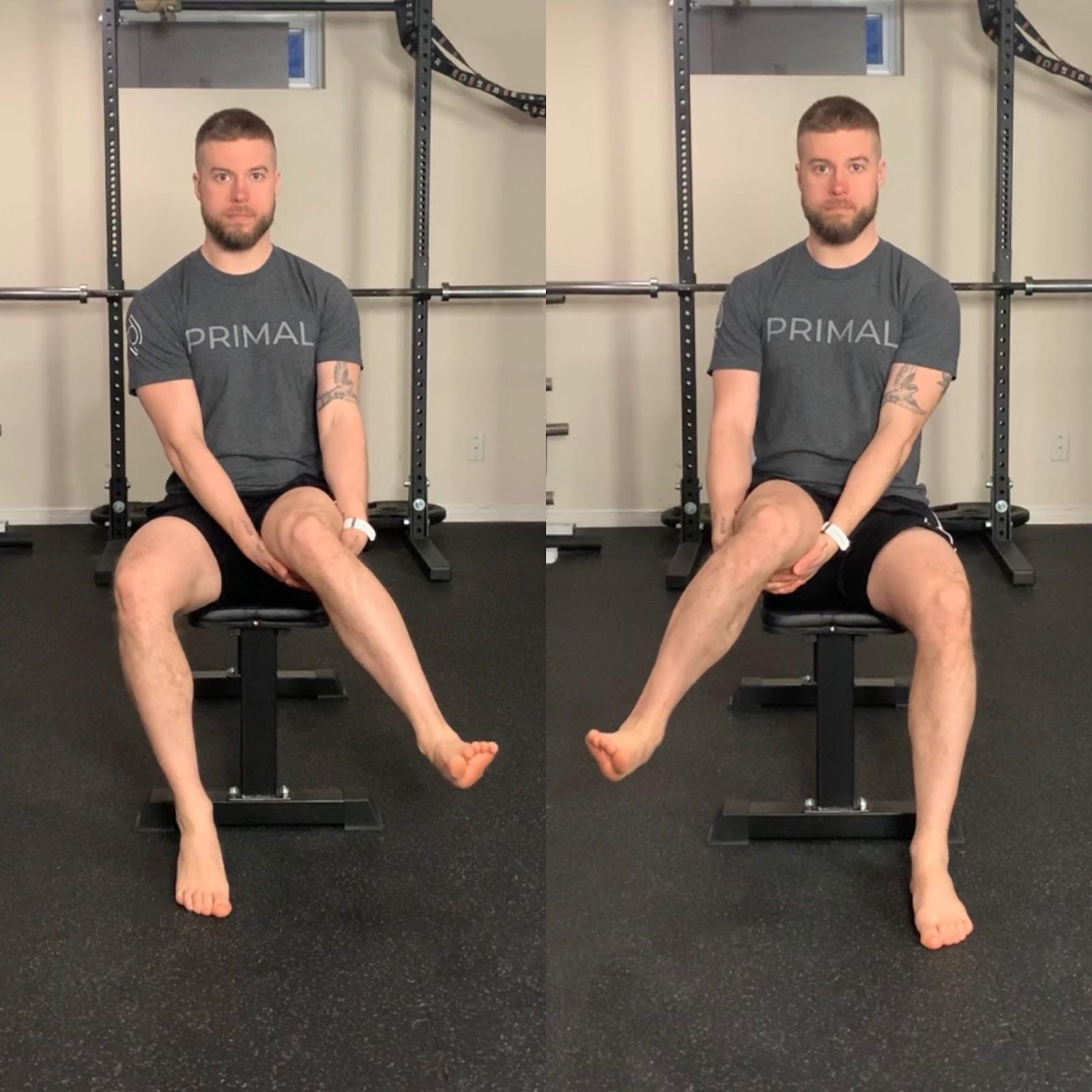 Poor Knee Over Toes (KOT) Mechanics
This is one of those things that is constantly talked about these days. Over the past three years, Ben Patrick (@kneesovertoesguy on Instagram, he has a solid page, a great story to tell, and follows great principles…he's worth a follow if you aren't already) stormed the social media world and brought far more attention to the knee over toe myth. If you're unfamiliar with this, allow me to remove the cotton balls from your ears and pull your head out from under the rock.
For roughly 50 years, it was commonly understood that squatting past 90º would place a higher likelihood that your knees would move past your toes and cause high levels of "dangerous" stress at the knee joint. This stress was assumed to cause knee injury, knee pain, and even death (just kidding, but it really felt like people were genuinely afraid of it). So people squatted high and stuck their asses out like a stripper putting in that work just to avoid this issue.
Now that we know knee over toes mechanics is necessary for a strong, healthy, deep squat pattern, you can work on improving it! One of my favourite exercises to help anchor KOT mechanics back into the squat pattern is one we call "Dorsiflexion Squats" at Primal Mobility.
Try it out - Dorsiflexion Squats!
Restricted Tibial Rotation
This is usually our last stop if we've exhausted all other options and aren't seeing the progress we want. As I mentioned in the hip rotation section above, the knees don't have the ability to rotate from the femur, but they do accept some rotation from the Tibia.
Poor tibial rotation is often far overlooked when approaching knee discomfort and knee pain as it is infrequently the cause, but with that said, it shouldn't be forgotten entirely.
If you want to play around with your tibial rotation to see if something is bothering you, try this exercise out!
Primal Knee Rotations
Training Through Knee Pain
Knee pain can be one of the most frustrating things, and the thought of having to take a step back sucks…a lot, especially when the barbell is what feeds your soul. I'm going to take a wild leap here and assume that lifting is vastly important to your mental health (let alone your vitality and longevity), so I'd never suggest outright dropping the weights or stopping your entire exercise program to relieve knee pain (metaphorically, of course, who doesn't love a good barbell drop here and there…as long as there are plates on it), but there are some things you'll want to consider.
Let's have a look.
Reduce the weight

Something to consider is that pain will always trigger a protective response from the nervous system. This is particularly important to remember for things triggering or aggravating the pain. Let's use squats as an example - say back squatting is a trigger for your knee pain. As you load up the barbell and drop into that deep squat position, the knee pain fires up. Naturally, as you continue through your reps, you'll start to expect that pain to be triggered, and your nervous system will begin to force movement compensations to help you stay away from that potentially dangerous situation. Over time, you'll struggle to maintain the proper mechanics, and you'll begin to shift or lean forward (or name any other compensation that may happen as a result). Reducing weight will help you avoid losing control and potentially causing more issues or further injury.

Slow it down

You may need to introduce tempo work and/or pauses to help you avoid dropping hard into deep ranges of motion that can trigger knee pain. As the percentages start to get higher, it's normal for the technique to begin to fade away. This is where you'll start to see that hard drop into the bottom of the squat in an attempt to gain some momentum to stand back up with the loading. That drop at the bottom can be disastrous to pain as what is happening is essentially just smashing into the end ranges of the joint. Slow it down, add a tempo to the movement and control your way into those end ranges rather than pulling the pin on the grenade and hoping for the best.

Drop the exercise(s) that triggers the knee pain.

This isn't always necessary, but if you don't have a knowledgeable pro in your corner that you can trust to give you solid guidance in these situations, this may be something to test out while you work on making progress with the knee pain. It sucks to have to do, but cutting it out temporarily might help calm the nervous system, speed up the recovery process and help reduce pain. It also offers an excellent opportunity to finally work on some weaknesses you've been avoiding.

Reducing the volume

If you want to keep the particular exercise that is causing you pain, you can always reduce the amount of it that you're doing. This will allow you to keep the stimulus it provides but lower the risk of flaring up the pain and potentially causing more damage.
Is It OK To Push Through Knee Pain?
While there are certain situations where pushing through pain is acceptable, I want to fall back to our Golden Rule here: never approach pain. The idea behind this is that triggering your pain can almost be like stoking a fire - it keeps it alive and thriving. That being said, there are so many nuances to the human body that I want to offer a few more thoughts here to consider.
What kind of pain are you experiencing?

Pressure, pinching, stabbing, "nervy." The better you understand your body, the more power you gain over the situation. Remember that nerve pain is something you should always be going to see a trusted PT for.

How often is the pain presenting itself?

Is it every day? During certain exercises? Only on a full moon? The less frequent the pain, the more likely it will be safe for you to intelligently "push" through it.

How severe is the pain?

Use a classic scale out of 10. Anything below a four can be classified as discomfort, while anything above is considered pain and anything above a nine is considered severe pain. Understand that as you get higher on the scale, the more problematic things become, the less you should aim to train through it.
Can You Train Away Knee Pain?
While traditional strength & conditioning methods can be challenging to use as a process to "train away the pain" due to compound movements (exercises using multiple muscle groups/joints at once - like a squat, bench press, clean, deadlift, etc.) making it challenging to isolate and build strength in the correct areas, our approach at Primal Mobility is very approachable regardless of your current situation.
The way we do things at Primal is essentially isolating the individual biomechanics and building strength there at the most foundational level. This offers you the opportunity to take proactive steps to build the necessary strength to then go back to the compound movements with more control and overall ability to manage the positions.
So the key point here is those compound movements are challenging to use as a tool to "train away the chronic pain!" but strength in isolation is empowering and can provide a path to relieve pain.
Range Of Motion
Something to keep your eye on during this journey is your current range of motion that may be affected by the pain. If deep ranges are triggering, then over time, you may find it challenging to maintain those ranges of motion.
It will be important to still find ways to get your knees into the deeper ranges frequently. Whether passive or active, assisted or unassisted, applying the deep range of motion will help you maintain them for a more extended period. With that being said, be conscious of your pain (that feels stupid to say, obviously, it will be nearly impossible to forget it once it's present) and understand that you can "warm up" your ranges much like you do for a workout. Start slow and shallow, and work your way into your deepest pain-free ranges.
Knee Pain FAQs
Is it OK to push through knee pain?
While there are certain situations where pushing through pain is acceptable, I want to fall back to our Golden Rule here: never approach pain.
Can knee pain be cured permanently?
The cause of the knee pain will dictate whether the pain can be cured permanently.
What are the four causes of knee pain?
The four causes of knee pain are weak ankle mobility, weak hip rotation, poor knee over toes mechanics, and restricted tibual rotation.
Can you train away knee pain?
Compound movements are challenging to use as a tool to "train away the chronic pain!" but strength in isolation is empowering and can provide a path to relieve pain. The way we do things at Primal is essentially isolating the individual biomechanics and building strength there at the most foundational level. This offers you the opportunity to take proactive steps to build the necessary strength to then go back to the compound movements with more control and overall ability to manage the positions.
Conclusion
Pain can be incredibly frustrating, but you likely have more power over the situation than you think. There are countless ways that you can work "with" it and ultimately overcome it, as long as you play the game smart and logically.
The last thing you should be doing is avoiding the gym entirely and assuming that you need to rest for weeks to relieve knee pain. InstInsteadu should be doing what you can in the gym (I want to emphasize what you can, please don't be "that guy" that takes what I'm saying out of context here and continues to smash their body) and finding ways to progress.
Remember, your body is wildly capable and can adapt to almost anything if the approach suits you.
If you need additional support, join our Facebook community, where I and the other Primal Mobility coaches/PTs frequently offer advice and guidance.

See you in there,
Matt Phili